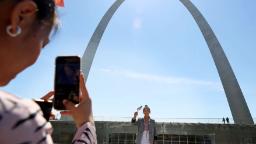 There were 47,900 Indian people who immigrated to the U.S. in 2020, the second highest number by country. Mexico made up the largest share at 82,700 immigrants, followed by the Philippines (33,100), Cuba (31,000) and China (23,000).
Those who were naturalized Monday included people from Bosnia and Herzegovina, Iraq, Peru, Bhutan and the United Kingdom.
Tarona Armstrong, the acting superintendent of Gateway Arch National Park, gave opening remarks at the ceremony, the first time she has done so.
"I was so overjoyed and got teary-eyed," Armstrong said. "Looking out into the crowd, 30 new faces that will be a part of our country, that will add to our great country. They are bringing who they are from their native homes to their new home."
Armstrong was "ecstatic" to make a connection with those receiving citizenship and said appreciation of diversity and inclusion is central to her job with the National Park Service.
Bush said the new citizens will play an essential role in the region.
"I know that this is a tremendous group of people we have here. Thirty people from all of these countries have the ability and the heart to help move us forward," she said. "We need your experience. We need your ideas. We need your community. We need you."
Read Also :