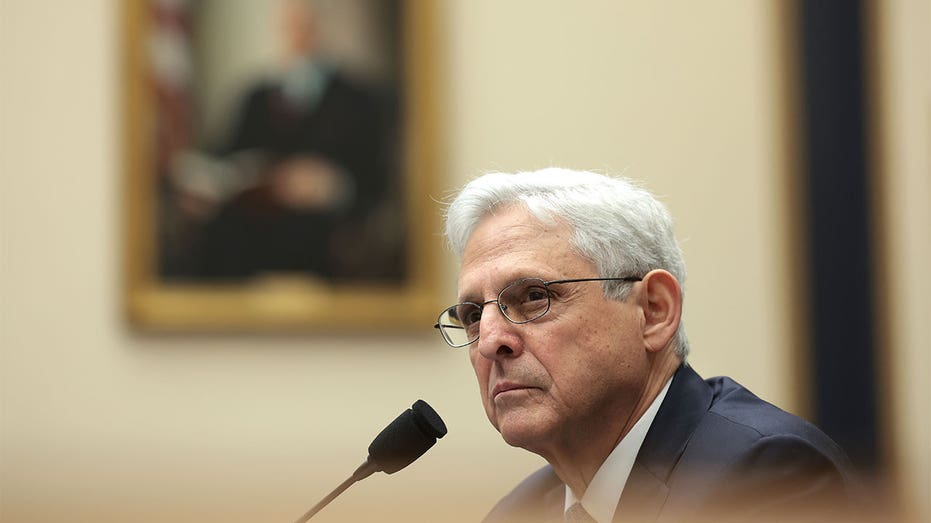 House Republicans spent much of yesterday using Merrick Garland as a punching bag.
The attorney general did not punch back.
In monotone answers that seemed only to exasperate his GOP inquisitors, Garland said again and again and again that he played no role in the Hunter Biden investigation other than to name David Weiss, the Trump-appointed U.S. attorney in Delaware, as special counsel.
WHY TRUMP'S MIDDLE GROUND ON ABORTION IS SHREWD, BUT CAN'T PLEASE EVERYONE
Garland's basic position – repeated ad nauseam – that he was demonstrating the independence of the Justice Department by giving Weiss full authority and staying out of the probe.
That hardly satisfied Republican members of the Oversight committee. Why didn't he make the appointment sooner? Wasn't Weiss a lousy choice? Why had the Hunter probe dragged on for years?
Republican Rep. Thomas Massie suggested that Garland should be held in contempt of Congress. 
As Garland repeated his basic answers with robotic precision – he's stayed out of it, Weiss a Trump appointee, he had the authority, I promoted him at his request, I can't discuss ongoing criminal investigations – he gave no ground. Usually Cabinet members facing a hostile panel will take a couple of jabs back, but Garland never abandoned his Sphinx-like demeanor. Maybe a couple of Republicans wished they had put him on the Supreme Court.
FROM SEXISM TO SEXUAL ASSAULT ALLEGATIONS, ACCUSED PUBLIC FIGURES FESS UP, DENY OR DENOUNCE
As the majority kept drilling down – if Weiss had all the authority he needed, why did he ask to become special counsel – people who haven't followed the Hunter case closely might have been puzzled by the pursuit of such details. Hadn't the same David Weiss just indicted the president's son on gun charges?
At the outset of yesterday's session, televised by all three cable news networks, committee chairman Jim Jordan rattled off a series of allegations and declared, "The fix is in." Ranking Democrat Jerry Nadler predicted "a deluge of conspiracy theories and baseless accusations." 
The AG said in his opening statement that "our job is not to take orders from the president, from Congress, or from anyone else, about who or what to criminally investigate. As the president himself has said, and I reaffirm here today: I am not the president's lawyer. I will also add that I am not Congress's prosecutor."
Garland also lamented threats against individual public servants and said the DOJ "will not be intimidated."
Many of the questions, which also veered into the Jan. 6 prosecutions, were blatantly political. Republican Matt Gaetz said, "You've got the president bringing Hunter Biden around to state dinners. So anyone told him to knock it off?"
Garland's response: "No one that I know of has spoken to the White House about the Hunter Biden case." 
Gaetz also asked about the president's son making big bucks by selling his paintings. Garland wouldn't comment. 
Some GOP lawmakers kept bringing up allegations by two IRS whistle-blowers that Weiss was initially stymied by others. Garland kept citing three letters to Congress from Weiss disputing such accusations.
Jordan got to the heart of what Republicans view as a "two-tiered" system of justice by saying, "There's one investigation protecting President Biden, there's another one attacking President Trump." The two federal indictments against Trump were brought by another special counsel, Jack Smith, named by Garland.
SUBSCRIBE TO HOWIE'S MEDIA BUZZMETER PODCAST, A RIFF ON THE DAY'S HOTTEST STORIES
The minority also pushed back. Democratic Rep. Madeleine Dean called the hearing a "shameful circus" meant to "spew lies and disinformation."
CLICK HERE TO GET THE FOX NEWS APP
House Republicans are planning the first hearing next week as part of their impeachment inquiry against Joe Biden. They clearly hoped to elicit some information from Merrick Garland to help buttress their case. If so, they were disappointed.
Read Also :