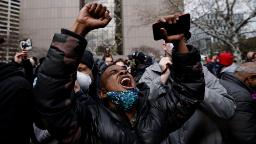 CNN's Van Jones said today's guilty verdict is the beginning of the road to justice for many Americans, not the end.
"Down one, many, many, many more," Jones said, his voice cracking when he heard that Derek Chauvin had been found guilty of all three.
"This is the beginning of something, this is not the end," Jones continued, calling on Congress and the federal government to inaction on racial justice.
"Sometimes when we fight we lose, but sometimes when we fight we win," he added. "The people won."
Watch the moment:
Read Also :