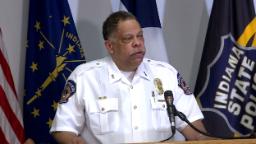 Alfarena McGinty, the assistant coroner for the Marion County coroner office, said she has not yet identified any of the victims of the shooting and the coroner office is "in the process of investigating."
"Usually we have to wait for all of the evidence to be gathered. We can't be there to confirm an identity," she said.
At the moment, McGinty said the coroner's office is working with the police victim support and Chaplin offices to gather information.
She explained how the state of Indiana specifies how victims are identified, adding, "This process will take a little time."
"As you all know, Indiana is very specific about how positive identification can be done – that is, identification by a family member, dentist, DNA, and fingerprints – so we need to ensure that individuals who are identified adhere to all of these measures The scene is positively identified accurately and appropriately, "she said.
"We have a few hours before we are there to conduct our investigation, and after that we will work with the families. After that process, all we have to do is perform our exams," she said, adding additional staff to help with these Complete exams in the next 48 to 72 hours.
These tests will confirm the real cause of death, McGinty said.
Read Also :