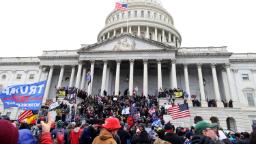 In a Senate report released this week – which aimed to investigate the security flaws that led to the riot – the word "insurrection" was omitted entirely unless someone was using the term. The reason? "Aides have also stayed away from language that might put some Republicans off, including not calling the attack a 'riot'," CNN reported.
Republican leaders have insisted it is time for the country to move on – and that the Democrats' only motivation to push for a commission to investigate the January 6th is to collect political points.
Following the removal of Wyoming MP Liz Cheney from the Republican leadership after condemning former President Donald Trump's actions (and inaction) on Jan. 6, Louisiana Senator John Kennedy made the exact same argument: "The Congressman has everybody Right to her But she doesn't have every right to be a leader, and I understand that a lot of House Republicans want to focus on the Biden agenda in 2022 and she doesn't want that. "
Indiana Rep. Jim Banks, chairman of the Conservative Republican Studies Committee, echoed this opinion. "Republicans are almost entirely united in a single mission to oppose the radical, dangerous Biden agenda and win back the majority in the midterm elections," he said on Fox News Sunday last month. "And any focus other than this distracts from stopping the Biden agenda."
Here's the problem with this let's move on message: Trump has no interest in ending the 2020 election.
This is the point former Virginia Republican Barbara Comstock made in a Wednesday afternoon comment (headline: "My fellow Republicans, stop fearing this dangerous and diminished man") in the New York Times.
Here is the key piece:
"Many Republicans want to move on after the January 6th attack. But how is that possible when the former president no longer resumes the November 3rd election and continues to spread the same inflammatory lies that led to 61 unsuccessful lawsuits prior to January.6, led to a riot and lead to even more violence could?"
Yes! The!
Over the weekend, Trump reappeared on the campaign trail in North Carolina with a speech that primarily looked back. He called the 2020 election the "crime of the century". He compared it to an election in a third world country. "What happened to this country in the last election is a shame," he said.
And it was not only in this recent speech that Trump showed his obsession with the past. Here is just an excerpt from his statements over the past few weeks:
"Great Patriots, led by State Senator Doug Mastriano, Senator Cris Dush, and State Representative Rob Kauffman, traveled to Maricopa County, Arizona to learn best practices for conducting a full forensic exam for the 2020 general election." Now the Pennsylvania Senate must act. "
"North Carolina gave us a great victory with no fraudulent results – missing ballots, illegal elections, elections of the dead, and all the other Democrats' tricks."
"Our country needs [Arizona] Attorney General Mark Brnovich, who so far has done little to reinforce it on voter integrity and 2020 presidential fraud – but patriotic Republicans in the State Senate make up for the ineligible RINOs.
So, yeah, he's not over it. Indeed, Trump is so not about the 2020 election that he believes there is a chance he will be reinstated for the presidency sometime this summer when recounts and exams go his way in places like Maricopa County, Arizona and Fulton County, Georgia.
Everyone knows this Winston Churchill aphorism: "If you don't learn from history, you are doomed to repeat it." And yes, that goes for the current attempt to obliterate the gravity of what happened by the Republicans on January 6th. But twist that aphorism a little and you get an even more accurate – and devastating – picture: those who try to ignore history must be held accountable if it repeats itself.
Here, too, Comstock writes eloquently about the effects of this deliberate forgetting of her party:
"The harm is that the lies have metastasized and could threaten public safety again. The US Capitol Police reports that threats against members of Congress have increased 107 percent this year."
That's it. Exactly.
Read Also :