[ad_1]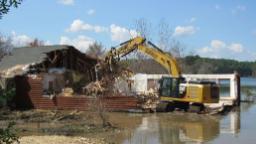 Trudi Marx Marquardt grew up on a farm on the lake's western shoreline. Her parents bought the 160-acre property in 1949 and raised nine children in its brick farmhouse constructed in the early 1900s.
They sold 120 acres to the county in 2005 for the creation of the Mud Lake Wildlife Area, and Marquardt purchased 37 acres from her mother in 2015, 22 of which were under water. Of the remaining 15 acres, only about five acres remain dry. The silo is surrounded by water, the barnyard is now home to largemouth bass, and the farmhouse was moved in October onto a new foundation on higher ground. A new driveway, more than a quarter-mile long, was also needed and built by the county to provide access to the farm off Haas Road.
In April, Marquardt, 62, started a Facebook group, the Friends of Fish & Mud Lakes, to bring attention to the ongoing issues.
"We need attention to get action," Marquardt said. "I'm sad about how much we have lost of our farm. It breaks my heart. I've lost my neighbors, I lost my road, we lost all the things we thought we'd have in retirement."
For the Watsons, Marc Watson's grandparents had a trailer on the lake just east of the dance hall. His parents purchased the trailer in the 1980s, and he and Margie bought the trailer in the 1990s.
They had a long friendship with Ganser, who died in April, which led them to purchase the former dance hall constructed in the 1930s, which had been closed for years. The Watsons paid $150,000 for the 6,300-square-foot building and 6-acre property and put another $200,000 into it over the years.
[ad_2]
Read Also :