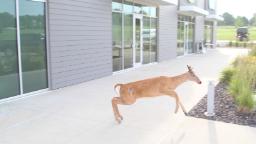 WATERLOO — A deer crashed through the window of a Waterloo marketing company Monday morning.
Passersby called authorities after seeing the deer jump through the window at Village West Creative, 1730 W. Ridgeway Ave., around 7:30 a.m. while the office was closed.
When police arrived, they found the animal still inside the building. The deer eventually fled through the same window and darted across Ridgeway Avenue, avoiding traffic, and disappeared.
Subscribe to our Daily Headlines newsletter.
Read Also :